Chester Hugh Wilson was born on July 28, 1917 in Lincoln, Nebraska. He lived with his parents, John and Della Wilson, and his four siblings, at 11th and "B" Street while attending Lincoln High School.

As the son of a local candy maker, Chet seemed to come by his talents naturally, with no formal training. As early as age five, Chet amazed his family with his mechanical abilities by repairing his Mother's household appliances. At the age of twelve, Chet built his first motor powered car .He assembled the frame, body, wheels, and steering with junk parts strategically gathered from around the neighborhood. When he was unable to locate exactly the right parts for his little machine, he would make them himself by fabricating the necessary pieces from scrap metal and wood. To power his creation, he repaired and adapted an old Maytag washing machine motor.

It was no surprise that his favorite subject in school would be shop class. Even then, he gained notoriety from his classmates and teachers as an ace mechanic and aspiring automotive machinist. Entirely from scratch, machining every piece (even the screws), he built a fully operational, miniature gasoline powered aircraft motor. Production began on his first "real" car when he was a young teenager still in high school. Fashioned similar to a Midget, he built a single seat car. The power selected for this vehicle was an Indian Twin Engine, and with a converted Model T clutch, he drove the car to school. When he made his way through the hall to shop class, more than a few eyebrows were raised. This vehicle never raced and was a toy by comparison, but most certainly a shadow of what was to come.

Chet's first streetcar was a 1929 Model A, purchased as junk by his father for $20.00. Of course, Chet made it a top priority project and before long, it was considered the best Model A around. At the age of twenty-one, he rebuilt and customized a 1934 Ford V-8. We are told that this bright yellow Roadster was the hottest thing in town. In 1941, he purchased a 1938 Maroon Convertible Ford. It was the hot set-up of the time and a real head turner, sporting propeller hubcaps, teardrop fender skirts, super charger stacks out the side of the hood, chrome dual exhaust pipes, and Chet's added Desoto Bumpers.

Upon the insistence of a childhood friend, Chet and Roland Badberg hopped in Chet's '34 Roadster and went to see the Midgets run on the new racetrack at the Lincoln Fair Grounds. Not wanting to spend the money for a ticket, they peered over the fence to watch. Chet intently studied every car in detail. To him, every sideways turn, every change in the sound of an engine, and every brave driver wiping the dirt from his goggles was magical. "I gotta have one-a them", he said "I just gotta have one-a them." This spectacular event marked the beginning of Chet's life long love affair with auto racing. From that day forward, either as a spectator or a participant, Chet never missed a racing event at the Nebraska State Fair.

Production began immediately on his new Midget. Chet built the entire car. He formed the body parts by shaping them around a sandbag, and initially powered the car with a Continental Engine. Prior to the on-set of WWII, the car raced infrequently in the Mid-West and even in California. A concentrated effort however, did not fully develop until after the war.

After marrying in 1940, Chet and his new bride, Althea moved to Wichita, Kansas. He found temporary employment working as a stock boy at Motor Equipment Warehouse. While perfecting his skills as an automotive machinist, he quickly developed his reputation as an innovator during his twenty-year employment with Kansas Rebabbiting Co. in Wichita.

Since all racing was curtailed during the war, 1942 through 1945, Chet took this opportunity to install a Ford V8-60 in his Midget. In 1946-1947 Chet took two years off of work and raced the car exclusively, running as many as eight events a week. During this time he gained national notoriety, fielding his bright red, Ford powered #5 Midget. In 1947, with young Lloyd Ruby at the wheel, "National Speed Sport News" writers dubbed the car the "fastest Ford in the country". Generally the Ford powered cars ran their own B-Features, but Chet's machine ran with the best Offy's and won. From 1946 to 1954, Chet Wilson's #5 Midget was successfully piloted by: Lloyd Ruby, Cotton Musick, Bernie Shires, Corky Benson, Guy McHenry, Jay Booth and Tex West.

Chet's #5 Midget has been restored and is currently owned by the family of the late Orville Rippy of Lincoln. Although it now sports a different body color and engine, the car can occasionally be seen at Vintage Exhibitions throughout the Mid-West.

Although Chet enjoyed building and racing his cars, he never acquired the desire to professionally drive them. He preferred to leave the driving to those more adept than himself. Instead, focusing his efforts on his first love, which remained building his business, perfecting his skills, and creating quality performance engines.

As early as the late 1940's, Chet started a small business in his basement. He purchased a Montgomery Ward lathe and made the necessary attachments to grind camshafts. In 1956 he built a new garage behind his house and expanded his business to include precision balancing and complete custom engine building. In 1964, he opened a full service custom engine facility on Osage Street in Wichita. Some of the original machinery that Chet designed and adapted for his special purposes is still in use today. Chet soon earned national recognition as an automotive machinist and accomplished custom engine builder. He was often referred to as a genius in the industry .Those who knew him well, say that, "somehow, he just seemed to know".

While building a successful business, Chet continued to build his cars and race as often as his busy work schedule and family obligations would allow. By 1954, the popularity of Midgets began to wane. So during the winter of 1954-1955, he bought a "Solar Car" Midget and "stretched it" to run with the Sprinters. He powered the "Stretch" with the rebuilt V8-60 Ford retrieved from his #5 Midget. He adapted a 105 Offenhauser crankshaft, and also cut and ground a special camshaft from a broken truck axle. This #25 car successfully competed against the Sprints during the 1955 season. The first time the car ran, driven by Frank Lies, they won everything but the trophy dash. Later in the season, Cotton Musick took the seat and won the UMCA Championship. Still referred to as "the fastest Ford in the country" it earned the nickname "The Offy Killer".

During the winter of 1955-1956, Chet would again prove to be a man of wisdom and foresight. Chevrolet had recently introduced the small block V-8 for their Corvette sports car. Chet somehow knew that this motor could be utilized as a strong racing engine and successfully compete with the expensive, but ever-popular Offy's. In 1955, the Chevy V-8 was new and racing parts had not yet been developed. Chet used Jahns pistons, an Edelbrock intake manifold, and three Stromberg Carburetors. He also adapted his Ford V8-60 magneto to his new Chevy. When needed parts were not available, he invented and constructed whatever necessary to gain state of the art performance from this engine. By making or adapting everything he needed, Chet put the FIRST Chevy V-8 in his "Stretched" Midget. This was the only year the #25 car was painted black, and it weighed all of about 1,400 pounds. Driven by Walt McWhorter, 1956 would prove to be a less than successful season when Chet's new Chevy engine was discovered to be too much motor for the chassis that housed it.

The winter of 1956-1957 would bring a necessary change. At a time when Offy and Ranger motors dominated Sprint Car racing, Chet built a brand new car to house his then 283 cubic inch, fuel injected custom Chevy engine. THE FIRST CHEVY POWERED SPRINT CAR was totally hand crafted. Chet made and assembled every piece except for the fiberglass nose and tail. As the first honored driver, Harold Leep successfully piloted the car for several seasons. Winning several championships and setting track records throughout the Mid-West, from 1957 through 1961. Although the tragic death of Al Chamberlin during a consolation feature in September 1963 at the Nebraska State Fair Grounds curtailed Chet's enthusiasm for a season, he did complete the necessary repairs to the car and resumed racing. Later years would bring such notorious drivers as Jud Larson, Gordon Wooley, and Grady Wade who earned the National Rookie Of The Year Award in 1966 while at the wheel of Chet's Chevy. Even country singing legend, Marty Robbins did a lap or two while visiting during fair time in Lincoln.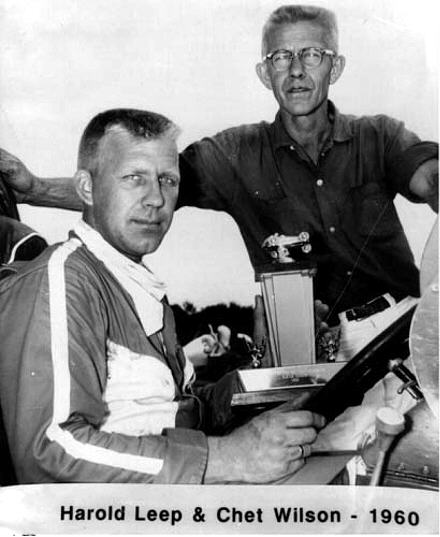 Photos on this page are Courtesy of the Chet Wilson Slide Show. Just click on the first photo and the show begins.



"In the beginning there was only one", and with the image of "Mighty Mouse" painted on the side of the hood, the reputation of the legendary "Offy Killer" grew and the name stuck. Chet Wilson's Chevy was truly, "the little engine that could".

Recognizing Chet's talents, Elmer George, the son-in-Iaw of Speedway owner Tony Hulman offered Chet the opportunity to come to Indianapolis to further develop and install Chevrolet engines in their Speedway Cars. Content with his own, Chet reluctantly declined the offer. The Chevrolet eventually became the dominant racing engine and powered many a driver to Victory Lane.

Due to Chet's failing health, "The Offy Killer" retired from professional racing in the Mid 70's. In 1982, Chet's widow Althea, allowed Roland Badberg, a close family friend and childhood chum of Chet's, to take the car to run on the vintage circuit. He and Jerry Wilson spruced the car up a bit. With some minor engine work, a bit of new chrome and a dab of paint, it was just like new. The car was then shown and raced at many Vintage Meets throughout the Mid-West from 1982 through 1991. After nine years of Roland's tender loving care, the car went to the National Sprint Car Museum at Knoxville, Iowa for six months in 1991-1992, before returning home to Wichita.

Chet's legacy, the notorious "Offy Killer", remains in the family and is still proudly run and displayed, as originally built, at many Mid-West Vintage Exhibitions each summer.

In April 1986, "Circle Track" Magazine spotlighted "The Offy Killer" in a "Classic" feature article celebrating the 30th Anniversary of the introduction of the Chevy V8. A caption by the author said it all. "Chet Wilson had the gumption to build something different. His Chevy powered Sprinter changed sprint car racing."

In January of 1995, "Performance and Racing Industry News" sponsored a Trade Show held in Columbus, Ohio. In celebration of the 40th Anniversary of the Small Block Chevrolet, an awards banquet was held to honor the original engineers that designed the engine. Innovator and car builder, Smokey Unick was the emcee, and approximately fifteen engineers were in attendance. One of the honored guests was Engineer Zora Arcus Duntov, the developer of the Corvette and the Performance Racing Parts Program. The Wilson Family was pleased to be invited to participate in the celebration by bringing the "Offy Killer" for display in the banquet room. The various cars exhibited were the first streetcars and racecars that utilized the Chevy Small Block V8. Chet Wilson' s "Offy Killer" was displayed as being the First Sprint Car to be powered by the Small Block Chevy V-8 engine.

In 1973, a team effort with son Jerry would mark the birth of the First "Wilson V-4". The "Wilson V-4" was originally designed for Midget application and produces in excess of 500 Horsepower. By cutting a V-8 block through the number #3 and #4 cylinders and milling the back half to the proper dimensions, plates are brazed over the water jackets and an aluminum face plate is mounted on the block. A special V -4 cam and crankshaft are machined and a V-8 magneto is utilized with half of the wires grounded. With amazing durability, actually more than the V-8, the first of these incredible little power plants, housed in a Midget owned by Jelly Wilhelm of Wichita and driven by Jerry Stone, won the Midget Nationals at Seattle's Kingdome. The second 196 cubic inch V-4 built currently powers the "Ron Dix" Special, a Midget owned by Duke and Ron Westerhaus of Wichita. A total of fifteen complete custom "Wilson V-4" engines have been built, and continue to successfully power Midgets and Street Rods around the country. Another forty, in kit form were constructed and distributed. Three of which were shipped to Australia and New Zealand. By 1984, other V-4' s were in production, but the "Wilson V-4" was the most popular and certainly the most developed.

In the February 1984 issue of "Circle Track" Magazine, "Inside the Wilson V-4" was highlighted in an article entitled, "THE BETTER HALF".

Chet Wilson built customized racing engines and provided specialized services for many successfully powered racing machines throughout the country, including his competitors. These services included but were not limited to, complete custom engines, consulting services, specialized machine work, stroker crank kits and custom ground "Wilson" cams for Midgets, Sprints, Stock Cars, Modifieds, Drag and Funny Cars. Appreciative recipients of Chet's magic include Jerry Blundy, Eddie Leavitt, Ted Detar, Chuck Grimsley, Joe Barsda, and many, many more.

Wichita's Chet Wilson was nationally recognized, and highly regarded, as one of the Mid-West's finest engine builders and car owners. As a quiet, mild mannered individual, he was generous with advice, and would often selflessly consult others in their never-ending quest for speed and improved performance.

Unfortunately, Chet's life was cut short. As technology improved, and the ability to acquire racing parts and speed equipment became commonplace, his accomplishments and the innovations that once marveled those of his time began to loose some of their luster. Sadly, we will never know just how large his bag of tricks may have been.

As a beloved and dedicated family man, Chet passed away from inoperable brain cancer in February 1977 at the young age of 59. His wife Althea, son Jerry, daughter Donna, four grandchildren, and two great grandchildren survive him.

Chet's passion for the industry and his inspiration lives on in his son Jerry. Learning at his fathers knee and having built an impressive reputation in his own right, Jerry continues to own, and operate with the same skill and precision as his father, The "Chet Wilson Engine Service" located at 559 W. Douglas, Wichita, Kansas.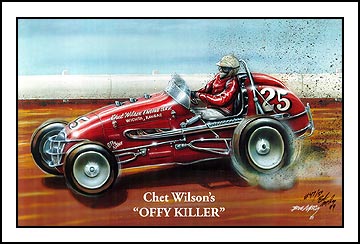 Chet Wilson Engines


For more pages check the Home Page.